Frankly, no gym (home or otherwise) is complete without a set of resistance bands. They should absolutely be the first bit of fitness equipment you pick up when you decide to extend your home workouts beyond bodyweight.
That's because resistance bands are cheap, effective, can be used in a variety of ways, and are easy to use without putting yourself at any risk of injury. They're a no-brainer, but it's still worth understanding a little about your options before buying.
There are four types of resistance bands which suit different goals. In brief:
Tube bands with handles are the easiest kind to use for high-resistance strength workouts. This resistance band workout for arms is a good example. Some sets will also come with anchor so they can be attached to a door, fixed pole or bar to widen the range of moves the band can be used for. Other sets will allow you to add bands to the handles to increase the resistance.
Open-ended strap bands are often used for mobility work, stretching and Pilates. They are sometimes tied off to create a loop.
Large looped bands are good for strength sessions, and are often used to perform assisted pull-ups. Large looped bands which offer a lot of resistance can also be used to add an extra challenge to barbell exercises.
Mini looped bands are great for lower-body work, like this resistance band glute workout, or activating muscles before a heavy leg workout.
Many people gravitate to tube bands, but we think a selection of large and mini looped bands open up the widest range of possibilities for your money. It's a combination that's used in our most popular resistance band workout.
Once you've decided on the type of band, you need to choose the level of resistance. The colour of a band indicates how heavy it is. Generally yellow bands have less resistance, blue and black bands have a high level of resistance, and red and green bands are in the middle. But there is a lot of variation between brands, and special colours are often thrown into the mix – gold bands in particular are usually very strong. 
If possible, try out some different degrees of resistance before buying, since if the resistance is too great you'll struggle to get any benefit, and too light and you may end up snapping them (you also need to take care of them, as natural latex bands can degrade and a nick can weaken the band). 
To help you home in on the best resistance band for you, we've divided them by type. 
Best Tubed Resistance Bands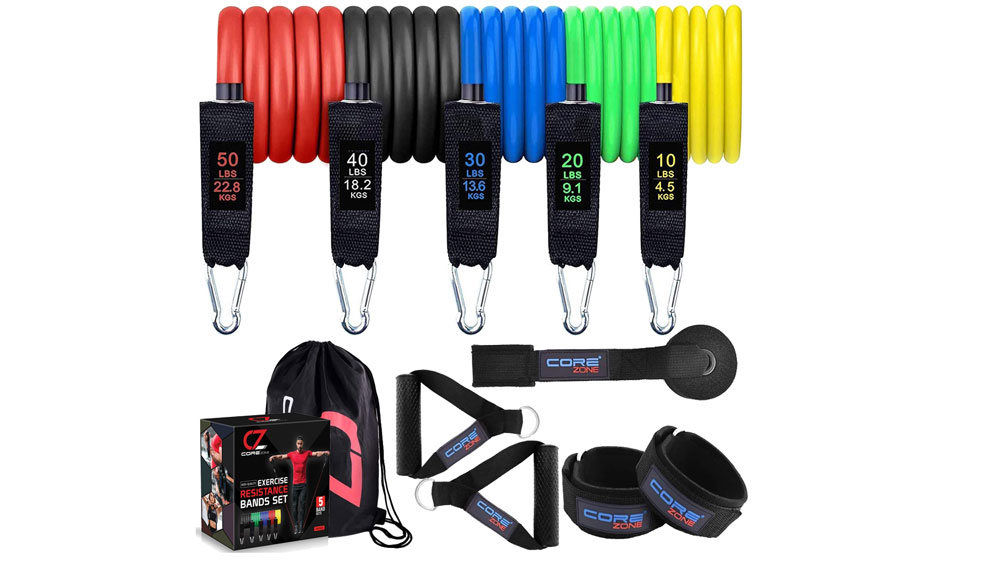 (opens in new tab)
You're getting a lot for your money here. The set includes five bands which can be combined for a max resistance of 150lb (68kg). Along with the expected two foam handles, there's a door anchor attachment and two ankle cuffs which means you can add standing glute kick-backs to your workouts.
---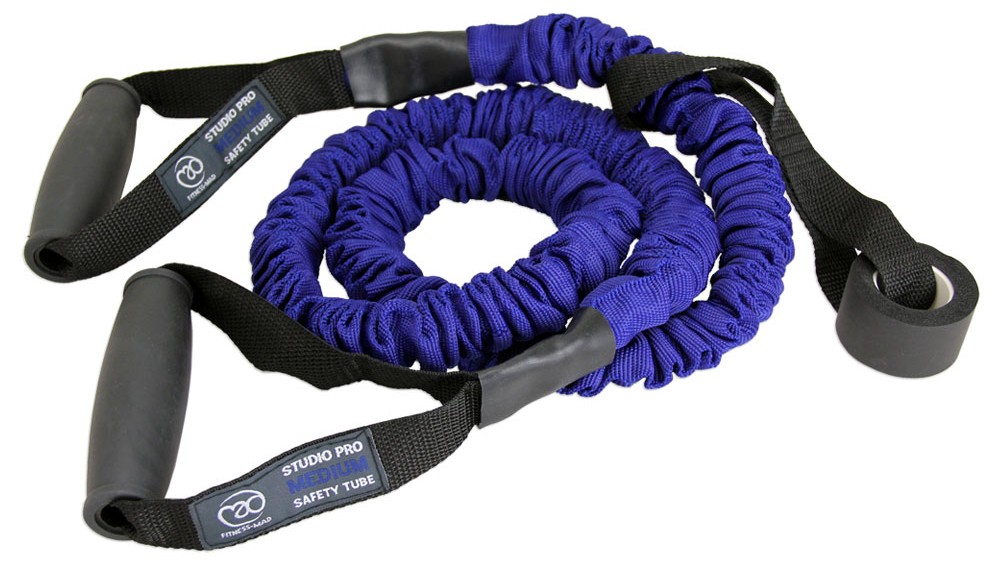 (opens in new tab)
Even though we'd trust every band on this list not to snap if properly looked after, it never hurts to be cautious. This band's nylon protection sleeve helps negate the risk of its latex tube failing, while also extending its lifespan. The resistance options span light to extra strong and a door anchor is included to expand the range of exercises the band can be used for. 
Best Large Looped Resistance Bands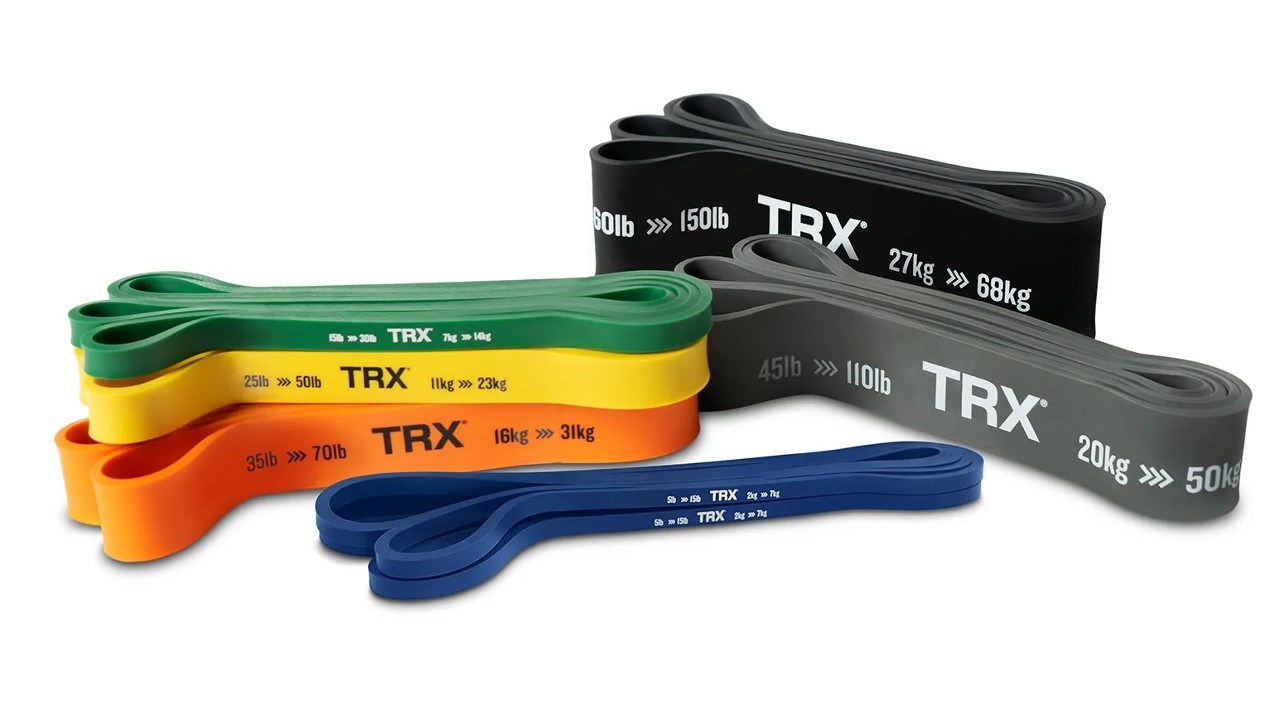 (opens in new tab)
---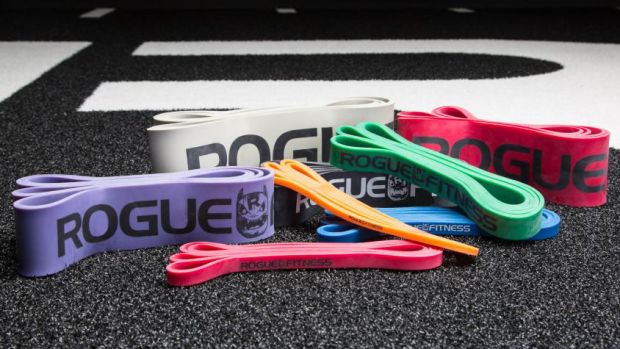 (opens in new tab)
These natural latex rubber bands span eight levels of resistance, with the toughest best reserved for especially experienced lifters looking to make heavy barbell lifts even more challenging. You can buy the bands individually, as a pair if you're planning on using them for barbell exercises, or in a pack of three with different resistance levels to cover all your bases.
Best Mini Looped Resistance Bands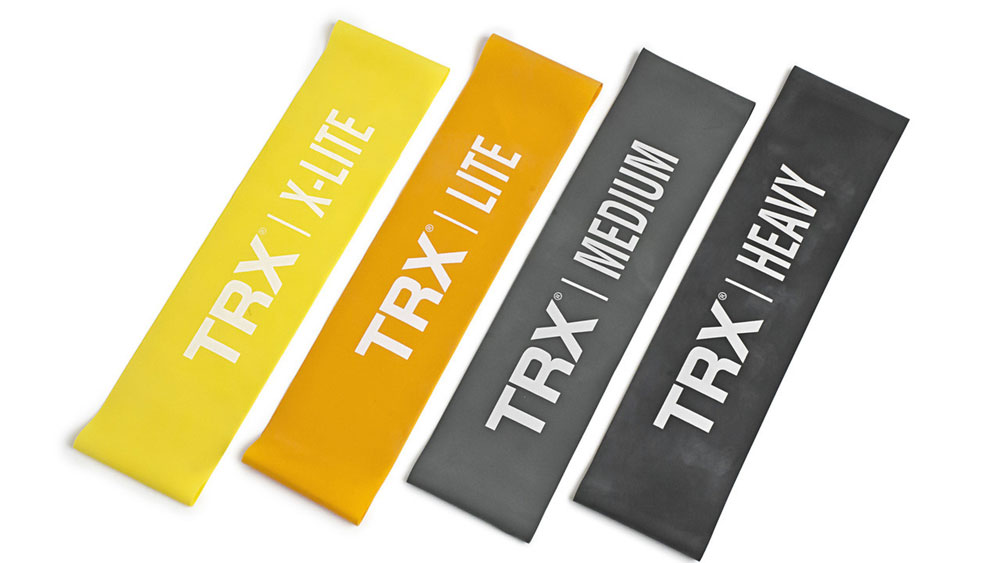 (opens in new tab)
The king of suspension trainer brands also offers a set of durable mini bands, ranging from an X-Lite version that's ideal for Pilates moves up to a heavyweight option that's more at home in the weights room.
---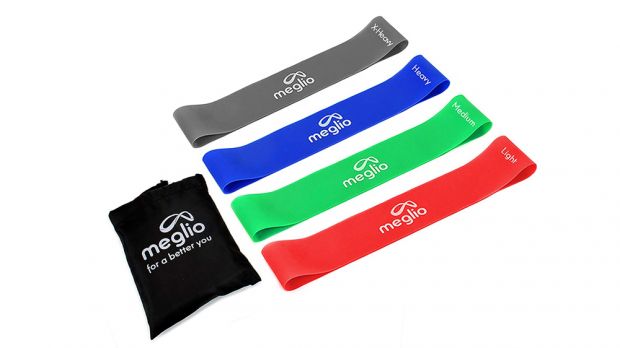 (opens in new tab)
If you currently live in a band-free household, we recommend picking up a few of these stretchy loops immediately. They're excellent value and will enable you to take your home bodyweight workouts to the next level. You can opt for one band or a pack of four that has a range of resistances, from the red band (light) up to the black (extra heavy). If you have all four you can also combine the bands to increase the challenge involved in your workouts.
The loops are great for building strength and for rehab after an injury, and if you get a set of four it comes with a handy pouch to stuff them in after your workout is done.
---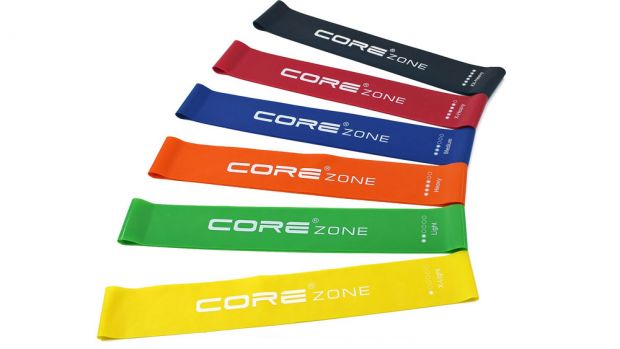 (opens in new tab)
The cheapest set on our list also offers the most bands and includes a rare XX-heavy red option. It also comes with a carry bag. Our only complaint is that the starting band has a comparatively high level of resistance.
---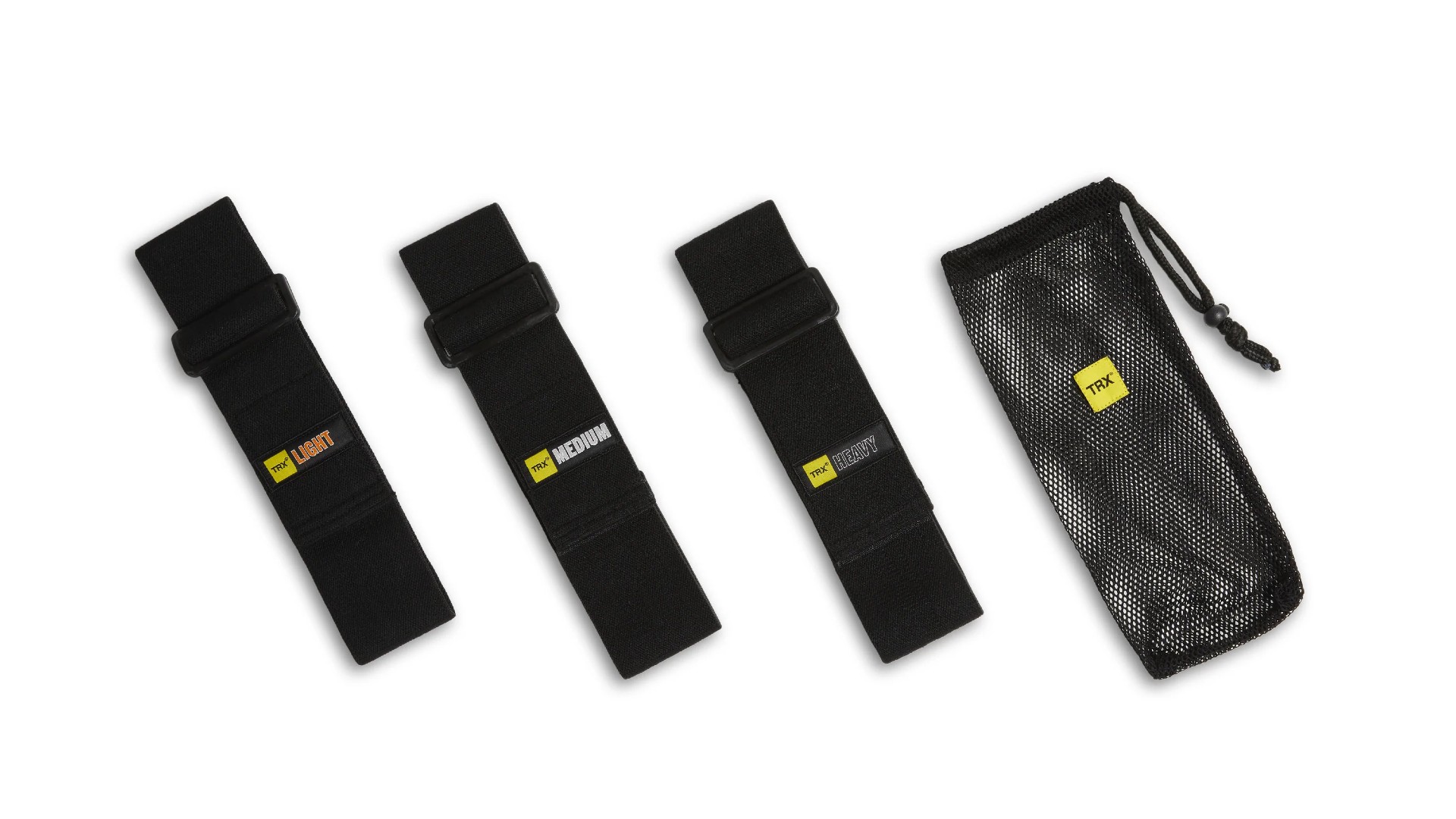 Latex or TPE bands can pull leg hair, TRX has designed an adjustable alternative made from cotton. The set comes in a light, medium and heavy resistance option and can be hand washed to keep them fresh for your next workout. 
Best Open-Ended Strap Resistance Bands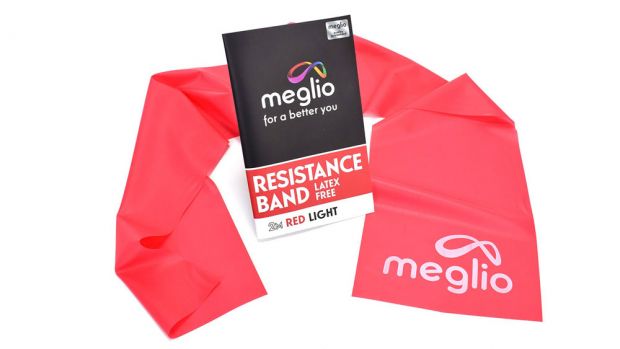 (opens in new tab)
As you may have cottoned on by now, Meglio is one of our preferred brands and you may well encounter their products in physiotherapist offices, commercial gyms and Pilates studios. These open-ended bands are available in 1.2m- and 2m lengths in the UK, while in the US your option is supersized to 7ft. There's also a wide range of resistances so you can use a light resistance for rehab and a tougher version for strength work.
---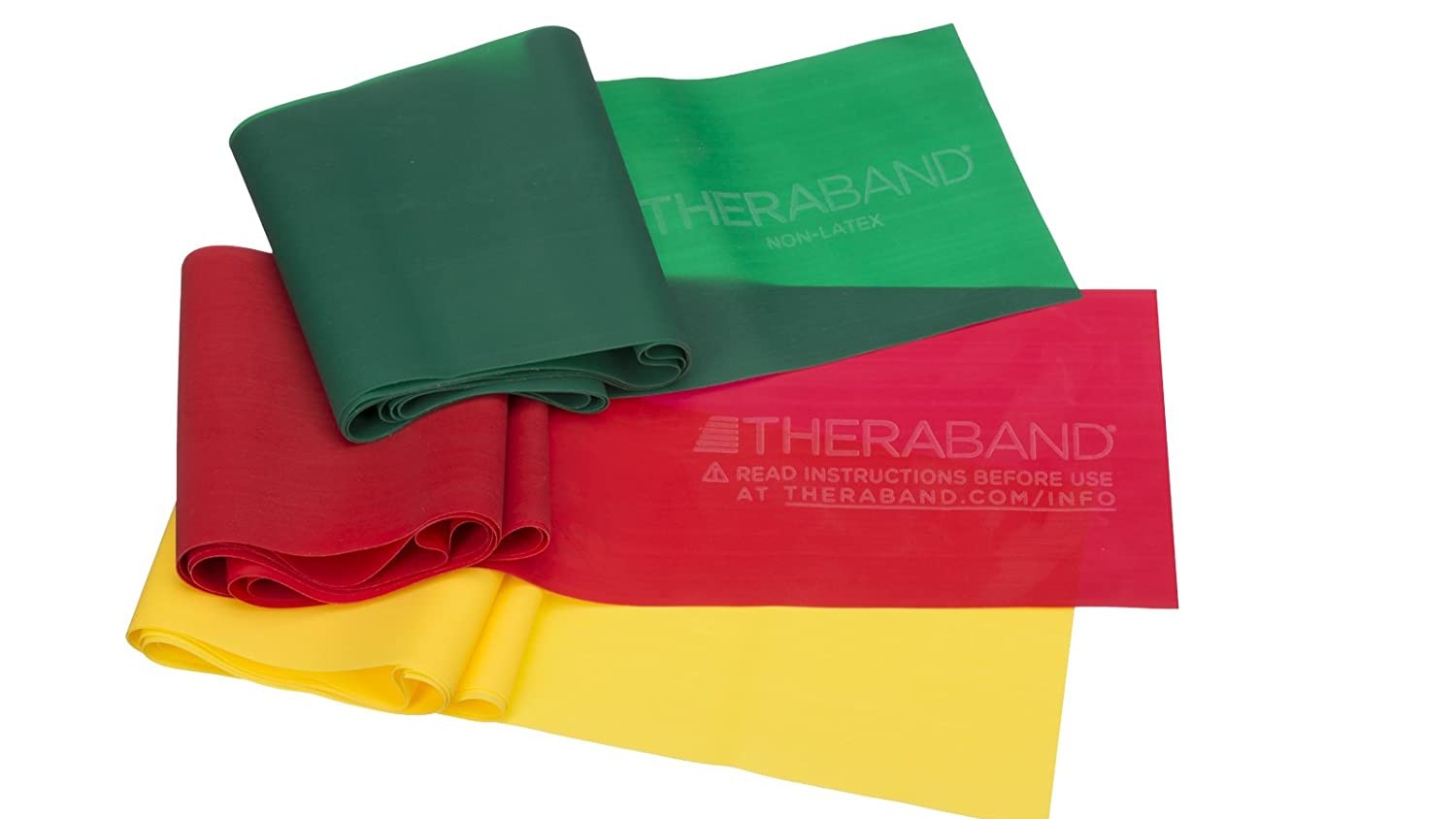 (opens in new tab)
Theraband has been going for more than 40 years and if you've been rehabbing an injury in the US you may well have come across their products. The company offers a wide range so you can also find non-latex sets and more challenging resistances.
I'm an emotional well-being and actual health proficient who needs to help other people carry on with their best lives. My main goal is to enable you to make what you need, regardless of whether it's not the same as your thought process.
I offer a comprehensive way to deal with mental and actual health. I'm a committed, merciful, and educated mentor with more than 18 years of involvement.